What is CCCOWE?
CCCOWE (Chinese Coordination Centre of World Evangelization) is an evangelistic movement from God. CCCOWE is neither a church nor a denomination, and it is also different from other para-church organizations; rather, it is a coordination centre having the role of "Servant, Prophet and Bridge," connecting churches and gospel organizations to fulfill the Great Commission of Jesus Christ. CCCOWE Canada's vision and mission are inseparable from three strategic focuses: intentional disciplemaking (cultivate), transformational change (innovate), and global mission (navigate). May the Canadian Chinese churches change together for Christ.
Statement of Faith
We believe the Holy Scripture, both Old and New Testaments, is the inspired Word of God, the complete revelation of His will for the salvation of men, and the Divine and final authority for Christian faith and life.
We believe in the one, true and living God, eternally existing in three persons - Father, Son and Holy Spirit.
We believe in God and the Son, Jesus Christ, true God and true man, conceived of the Holy Spirit and born of the Virgin Mary. He died on the cross and shed His blood as an atonement for the sins of men, and was raised bodily from the dead. He ascended into heaven. He will return imminently and personally according to His promise.
We believe in the Holy Spirit, the Third Person of the Godhead, who is of one substance, equal in power, and co-existent with the Father and the Son. His ministry is to convict men, to regenerate the believing sinners, and to indwell and empower the believers for godly living and service.
We believe that man was created in the image and the likeness of God, but in Adam all men have fallen into sin, and as sinners men are in need of God's salvation.
We believe that penitent sinners are regenerated solely by God's grace and justified through faith in Jesus Christ alone.
We believe that there shall be a bodily resurrection of the just to eternal life, and of the unjust to eternal punishment.
We believe that the church is one body, consisting of those regenerated by the Spirit of God, and of which Christ is the Head, expressing itself in worship, fellowship, evangelism, and service.
Ministry Direction
Since the 1970s, CCCOWE has been advocating "Chinese churches in one accord, proclaiming the gospel until Christ's return" as the core essence for the world evangelization movement. As a result, CCCOWE Canada is serving more than 500 Chinese churches, seminaries and gospel organizations in Canada under this premise to jointly put the Great Commission into practice.
In terms of ministry activities, CCCOWE Canada has been partnering with local churches and connecting with local ministerial fellowship in various districts. According to the need of districts, CCCOWE Canada would hold consultations for strategic discussion including: church planting, gospel outreach, cross-cultural mission, senior ministry, church growth, worker recruitment, pastoral retreat, leaders interaction, next generation ministry, and church ministry model, etc. Based on these consultations, it's important to exercise strategic planning for the development and continuous growth of the bi-literate tri-lingual churches in Canada, so as to lead more people to the Lord.
Forging future with tradition, CCCOWE Canada pledges to "cultivate, innovate, and navigate" amongst the Chinese churches, coupling with the role of "servant, prophet and bridge," to accomplish the following three-fold strategic ministry directions:
Discipleship-Driven Cross-Cultural Mission
Family-Focused Next Generation Ministry
Church Unity Gospel Outreach Growth
When the directors representing various district committees meet in Toronto, we would carry out in-depth evaluation of Chinese churches across Canada based on situation, development, change, pastor and model to formulate proper ministry approaches. Indeed, there are still lots of developmental challenges for the Chinese churches in Canada, which are also the challenges for CCCOWE Canada.
CCCOWE Movement in Canada
Development History
In 1974, at the Lausanne Congress hosted by the Billy Graham Crusade, about 70+ Chinese pastors were deeply moved and caught the vision of world evangelization. While it's a challenge to unite the Chinese churches, it's the time for Chinese Church to play a role in spreading the gospel to the ends of the world. As a result, the first Chinese Congress on World Evangelization (CCOWE) was held in Hong Kong in 1976 with the theme "Vision and Mission,'' thus turning a new page for the Chinese churches to start a gospel movement. Subsequently, the Chinese Coordination Centre of World Evangelism (CCCOWE), renamed to be Chinese Coordination Centre of World Evangelization in 2018, was established in Hong Kong to implement ministry plans already launched and set to organize CCOWE every five years. Since then, CCOWE had been organized nine times: Hong Kong (1976), Singapore (1981), Taiwan (1986), Manila (1991), Hong Kong (1996), Kuala Lumpur (2001), Macau (2006), Indonesia (2011), Taiwan (2016). The 10th Congress will be held in Kuching, Malaysia from July 20 to 24, 2026.
CCCOWE Canada
Since the 3rd CCOWE, because of the immense responsibility undertaken by CCCOWE, there is a strong need to have CCCOWE ministries rooted around the globe. Therefore in 1987, CCCOWE merged with North America Congress of Chinese Evangelicals (NACOCE), allowing regionalized ministries to take shape. At the 4th CCOWE, to further implement the concept of regionalization, CCCOWE began to encourage district committees to form its region and organize regional centre. This would allow a region to have its own strategic planning and ministry development. Through supplementary discussion, the district committees in both USA and Canada agreed unanimously to organize their own regional centre. Consequently, CCCOWE Canada was officially founded. At the beginning, there were only six district committees in Canada. But in 2018, according to the distribution of Chinese living in various big cities across Canada, the regional board of CCCOWE Canada approved to add two districts. Now the eight districts include: Canada West District (Vancouver), Canada Mid-North District (Edmonton), Canada Mid-South District (Calgary), Canada Mid District (Regina), Canada Mid-East District (Winnipeg), Canada East District (Toronto), Canada North-East District (Ottawa) and Canada East-East District (Montreal). Regarding the functional organization structure of CCCOWE Canada, please refer to the following diagram:
Board of Directors and District Members
CCCOWE Canada Board of Directors
Rev. Dr. Harding Ng(Board Chair)
Rev. Ming-Peng Gong(Vice Chair)
Rev. Dr. Michael Tsang(Secretary)
Mrs. Sharon Wong(Treasurer)
Mr. Ramsay Chan(Committee)
Rev. Dr. Peter Mah(Committee)
Rev. Yiu Tong Chan(Committee)
Rev. Edwin Tsang(Committee)
Rev. Johnny Wong(Committee)
Rev. Dr. Roland Shum(Committee)
Pastor Daniel Kong(Committee)
Rev. Dr. John Zheng(Committee)
Rev. J. Wilson Kaan(Committee)
Rev. David Fong(Committee)
Rev. Luc Tran(Committee)
Rev. Deyi Wei(Committee)
Rev. Chadwin Mak(Committee)
Rev. Dr. Jack Xie(Committee)
Rev. Kerry Lee (Committee)
Rev. Frederick Leung(Committee)
Rev. Ian Ho(Committee)
Rev. Dr. Francis Tam(Executive Director)
i
CCCOWE Canada Ministry Team
Rev. Dr. Francis Tam(Executive Director)
Rev. Johnny Wong(Voluntary Associate Executive Director)
Rev. Alfred Chui(Voluntary Ministry Director)
Pastor Wilburn Chu(Voluntary Mission Director)
Rev. Dr. Peter Mah(Special Volunteer)
Dr. Anthony Chan(Special Volunteer)
Pastor Alex Cheung(Project Coordinator)
Ms. Ruby Szeto(Office Admin)
Mr. David Lau(IT Specialist)
---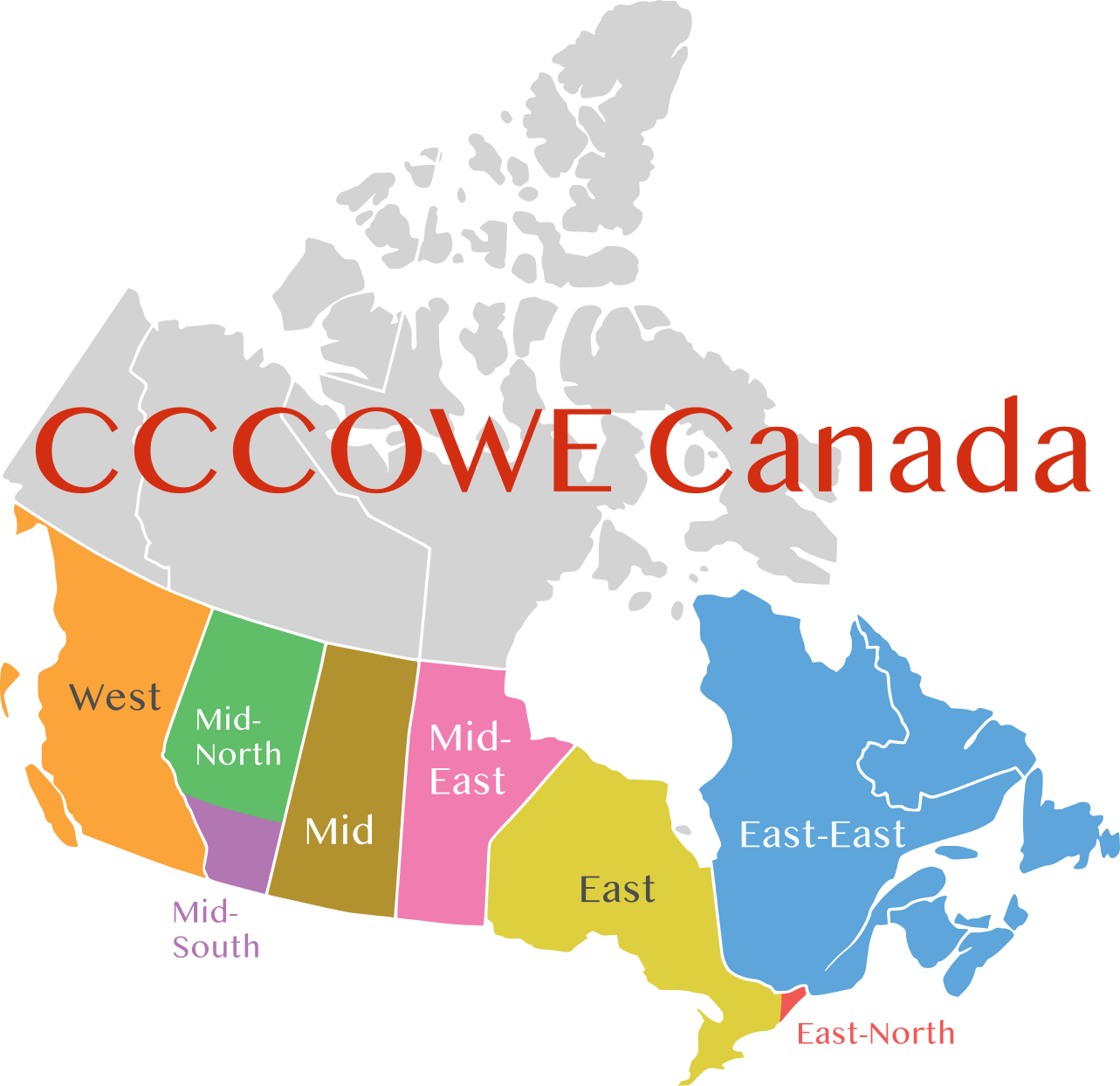 Canada West District
Rev. Yiu Tong Chan(Director)
Rev. Edwin Tsang(Chair)
Rev. Anthony Yeung(Committee)
Pastor William Lam(Committee)
Mr. Samuel Cheng(Committee)
Rev. Ming Wong(Committee)
---
Canada Mid North District
Rev. Johnny Wong(Director)
Rev. Dr. Roland Shum(Chair)
Mr. Andy Leung(Committee)
Rev. Gabriel Li(Committee)
Rev. Michael Zhang(Committee)
Rev. Tony Zhang(Committee)
---
Canada Mid South District
Pastor Daniel Kong(Director)
Rev. Dr. John Zheng(Chair)
Rev. Dr. Ryan Wang(Committee)
Rev. Po Kei Au(Committee)
---
Canada Mid District
Rev. J. Wilson Kaan(Director)
Rev. David Fong(Chair)
---
Canada Mid East District
Rev. Luc Tran(Director)
Rev. Deyi Wei(Chair)
---
Canada East District
Rev. Chadwin Mak(Director)
Rev. Dr. Harding Ng(Chair)
Rev. Tommy Tsui(Committee)
Rev. Dr. Joseph Wong(Committee)
---
Canada North East District
Rev. Dr. Jack Xie(Director)
Rev. Kerry Lee(Chair)
Rev. Dr. Francis Wong(Committee)
Pastor Alan Lau(Committee)
Rev. Caleb Liu(Committee)
---
Canada East East District
Rev. Frederick Leung(Director)
Rev. Ian Ho(Chair)
Office
25 - 145 Royal Crest Court,
Markham, ON
L3R 9Z4 Canada